> Business > Domestic Business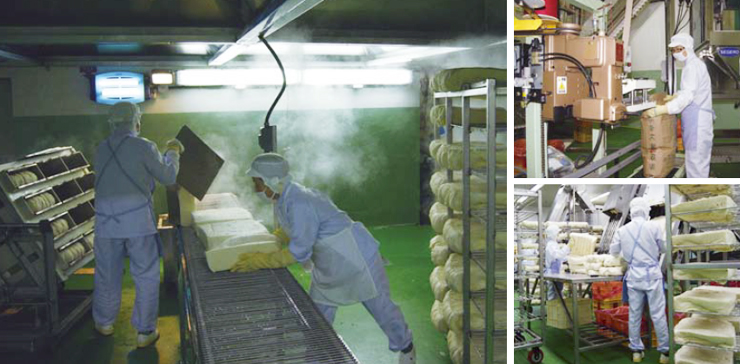 Dong Hwa Food Co., Ltd was established at the end of 1980s. When we initially released frozen breaded fish products and exported to Japanese market, there were many claims regarding breadcrumbs (alien substances, dirty and bad appearance).

We decided to establish a company specializing in breadcrumbs because it was almost impossible to meet the needs of the Japanese market with existing products. Accordingly, Dong Won and Katokichi, the famous Japanese frozen products company entered a joint venture.At the moment we have a production capacity of 20 tons of breadcrumbs per day.

We are a breadcrumb specializing company supplying breadcrumbs to various companies (frozen and instant product companies) and to international markets with tonnes of breadcrumb manufacturing methods.
- Produce bread crumb with technical support of Japanese bread crumb company.
- The bread crumb is used as an ingredients of frozen food.
- Produce functional bread crumbs based on many years experience and Know-How.
- Develop a hygienic control system focusing on hazard in food processing.
- Main customers: Nong-Shim, Shinsegye Foods, CJ, Woo-il fisheries, etc.
- Main Experting Countries: India, Hongkong, Canada, Northen Europe
ㆍ Production Capacity
| | |
| --- | --- |
| Daily production capacity | 22tons(1,800kgs/hour) |
| Monthly production capacity | 600tons(fresh bread crumb) |
ㆍ Main Facilities
| | | | | | |
| --- | --- | --- | --- | --- | --- |
| Type | Capacity | Type | Capacity | Type | Capacity |
| Air Shifter | 100Kg/M | Mixing machine | 1,600Kg/H | Measuring room | 16.55㎡ |
| Lifter | - | Dividing machine | 1,600Kg/H | Molding machine | 1,600Kg/H |
| Fermentation room | 49.65㎡ | Electronic oven | 1,200Kg/H | Cooling room | 99.30㎡ |
| Grinder | 2,400Kg/H | Metal detector | 2set | Drying machine | 400Kg/H |
| Storage room | 66.20㎡ | Automatic weighing machone | 6cycle/M | | |